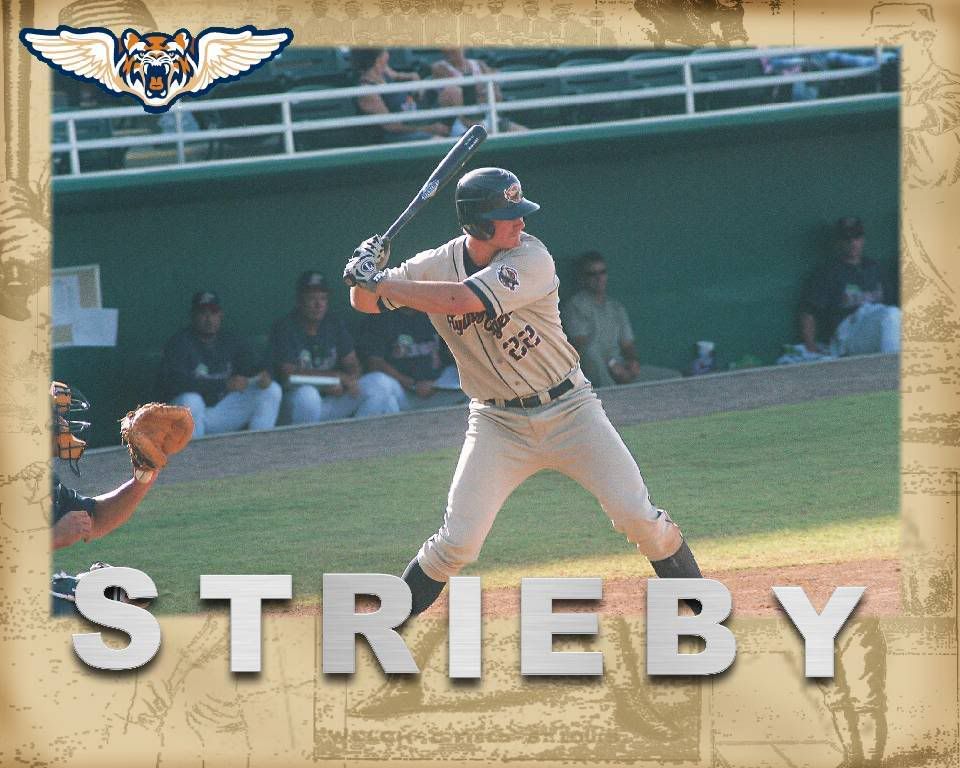 Lakeland Flying Tigers catcher
Jeff Kunkel
and first baseman
Ryan Strieby
have been named to the Florida State League Western Division All-star team.
The pair will join shortstop
Cale Iorg
and right handed pitcher
Matt O'Brien
and right handed reliever
Rick Porcello
Saturday, June 14, in Viera, Florida, for the Annual Showcase.
Catcher
James Skelton
and second baseman
Scott Sizemore
, who were named to the team earlier in the week are unable to participate due to injuries. Also selected to the team was
Luis Marte
, who has been promoted to the Tigers Double A affiliate in Erie, Pa.
Kunkel is hitting .241 in the year, with 20 hits on 83 at bats in 27 games. He has collected 9 runs and 7 RBIs, walked 6 times and struck out 15 times. He has hit for extra bases five times, all doubles. The 25-year old was drafted by the Detroit Tigers in the l7th round of the 2005 First-year Player Draft out of the University of Michigan. He split time last year between the West Michigan Whitecaps of the Midwest League and the Lakeland club.
Strieby has 49 hits for 198 at bats, good for a .247 average. He has 25 runs, and 35 RBIS, has walked 25 times and struck out 57 times. 19 of his hits have been for extra bases including 11 double, 1 triple and 7 home runs. A native of Seattle, Washington, the 23-year old was selected by Detroit in the 4th round of the 2006 First-Year Player Draft.
Five members of the Whitecaps have been named to the Midwest League All-star game in Midland, Michigan. First baseman
Chris Carlson
, outfielder
Casper Wells
, infielder
Joe Tucker
, right handed pitcher
Alfred Figaro
and left handed pitcher
Jon Kibler
will represent the Tigers' farm on the Eastern Division squad.
The announcement comes after the addition of catcher
Wilson Ramos
from the Fort Myers Miracle. Ramos was named to the team to replace Lakeland catcher
James Skelton
.
Ramos, a 21-year old native of Valencia, Venezuela, has compiled a .236 batting average, a team-high eight home runs and 38 RBI. Signed by the Twins as a non-drafted free agent, Ramos is in his first season with Fort Myers.
Last season, he hit .291 with eight home runs and 42 RBI for Beloit of the Midwest League.
The officials for the All-star game have also been released.
Adam C. Hamari
will be calling the balls and strikes behind the plate at the All-star classic.
Jeffrey C. Gosney
,
Hal H. Gibson III
, and
Sean M. Barber
will be working first, second and third bases respectively. The All-star Umpires will be included in the All-star Game festivities.
Other players selected to the West Division All-star game are as follows:
From Dunedin: Catcher
J.P. Arencibia
, right handed reliever
Connor Falkenback
and 1st baseman
Brian Dopirak
.
From Sarasota: Outfielders
Drew Stubs
and
Chris Heisey
, right handed reliever
Ramon Geronimo
and designated hitter/3rd baseman
Juan Francisco
. Right handed pitcher
Jordan Smith
and shortstop
Chris Valaika
were also named to the team, but are unavailable due to promotions.
From Clearwater: Right handed pitcher
Edgar Garcia
and left handed reliever
Matt German
, and outfielder
Gus Milner
. It was a no brainer to select the Thresher's lefty pitching pheonom
Antonio Bastardo
, but - of course - he has been called up to AA Reading and will be unable to play in the showcase.
From Tampa: Righthanded pitcher
Ryan Pope
, catcher
Kyle Anson
and outfielder
James Cooper
. Right handed pitchers
Eric Hacker
and
Alfredo Aceves
were also selected but have already recieved promotions to Trenton of the AA Eastern League.
From Fort Myers: 2nd baseman
Brian Dinkelman
, 3rd Baseman
Danny Valencia
, right handed pitcher
Jeff Manship
, and right handed relievers
Anthony Slama
and
Rob Delaney
. Outfielder
Rene Tosoni
was also named to the All-star team but is sidelined with an injury and will not be available for the game.