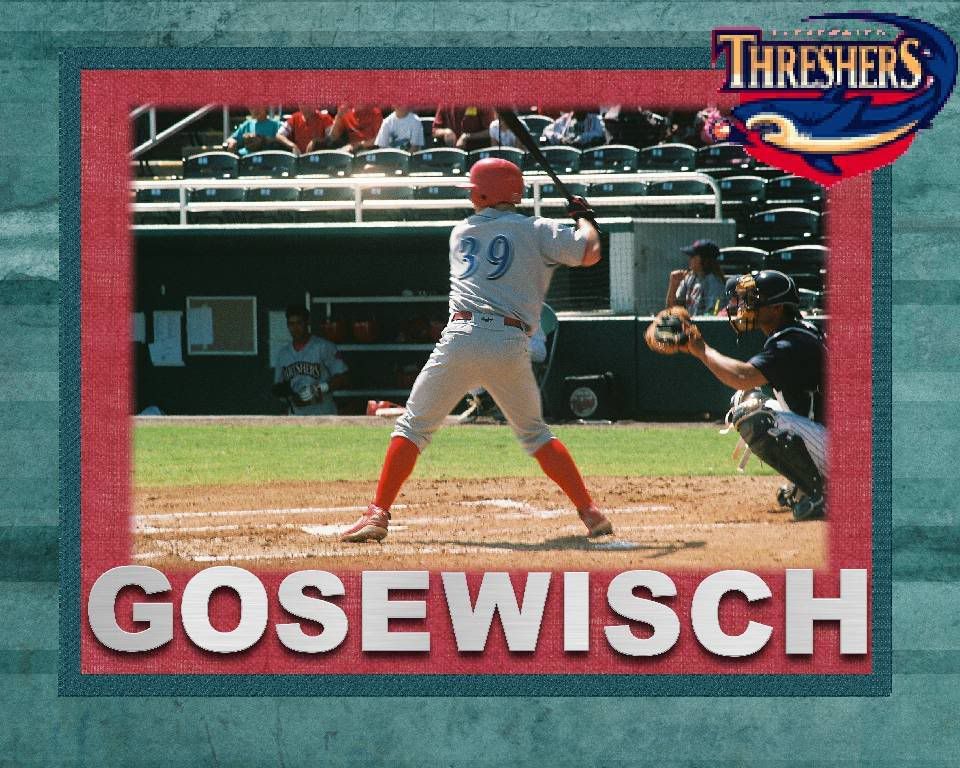 Evidently the East Coast appeals the Threshers. Clearwater pounded out 17 hits for 12 runs to win 12-3 over the Jupiter Hammerheads in the battle of the sharks.
Four different Threshers hit home runs including
Tuffy Gosewisch
(pitctured above).
Clearwater chased Jupiter starter
Graham Taylor
off the mound, taking 8 runs on 7 hits and 3 walks over 2 innings, including a 6-run first inning.
Edgar Garcia
picked up this 5th win for the Phillies farm, allowing 2 runs on 7 hits and 2 walks while striking out 3 in six innings.
The Threshers won on Wednesday night as well, topping Jupiter 6-5. Southpaw
Dan Braur
took the start, allowing 3 runs on 5 hits and 3 walks in 4 innings.
Andy Curse
picked up the win in relief, going 2.1 innings and allowing 2 runs on 2 hits and 1 walk.
In other East-West league action, Sarasota topped the D-Cubs 5-1 on Wednesday, Tampa doubled up Brevard County, 2-1, Lakeland downed Vero Beach 8-4, and Dunein pasted Palm Beach 10-5.
On Thursday the Red Birds took their revenge, pecking the Jays 5-1; Sara again won over the D-Cubs, 3-2; Fort Myers played their first game against St. Lucie winning 7-2 with a pair of back-to-back home runs from Wilson Ramos and Whit Robbins; Tampa again doubled up Brevard County, 4-2; and Lakeland again won over Vero Beach, 4-3.