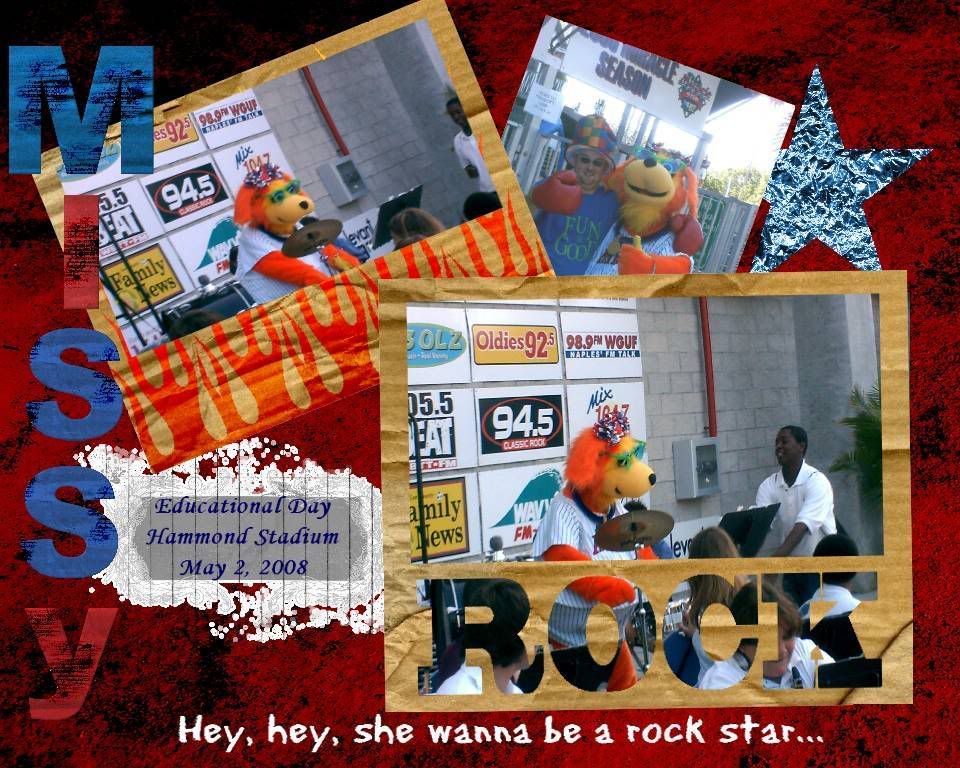 The Brevard County Manatees come up with some very amusing promotions.
With the Tampa Yankees coming to Space Coast Stadium for a four game set starting on Wednesday, Brevard will be kicking off the festivities with Damn Yankees Night.
Damn Yankees were an American hard rock supergroup. The band was formed in 1989, consisting of
Tommy Shaw
of Styx,
Jack Blades
of Night Ranger,
Ted Nugent
of Amboy Dukes and his own solo career, and
Michael Cartellone
. Presumably inspired by the musical of the same name, Nugent once also explained that he coined the name because whenever someone asked him how he and
Tommy Shaw
would sound playing together, he would always reply by saying they would sound like "a bunch of damn Yankees." With Shaw from Alabama, Blades from California, Cartellone from Nebraska, and Nugent from Michigan, it did seem as if the band represented all four corners of the nation.
1990's chart-topping rock ballad "High Enough" featured a passionate duet between Shaw and Blades, backed by a string section in the studio. Backed by a
popular video
, it rose to #3 on U.S. Top 40, and #1 on AOR charts. Ironically, "High Enough" happened to be the first #1 pop single in
Ted Nugent
's career, despite the fact his career had been built on his "Motor City Madman" image.
How does the promo work? Any male that comes to the ticket office with hair longer than their shoulders will receive $2 off their ticket to the game. Wigs are acceptable. Shades are optional, but recommended, as you probably wouldn't want to be recognized in that wig.
Meanwhile, Space Coast Stadium has added a new video board that can be used for commercials, statitics, information and entertainment.
Brevard is currently in Clearwater and is 1-2 against the Threshers. Clearwater lost ace
Antonio Bastardo
to Reading this last week.
Tampa is currently hosting the Jupiter Hammerheads, and has won the three games they've played so far in the 4-game series. While the Manatees promotional mailing invites fans out to Spacecoast on Saturday to "see the 'Tees finish off the sweep of the Yanks," that might be a tall order for the East Division team.
Jupiter will play host to Clearwater then they return. The Marlins farm is 16-15 on the season, 4 games back from the Division leading Palm Beach Cardinels, while Clearwater is 11-20, still down in the cellar, and 7 games back in the West Division.
The Red Birds are currently facing the Reds in Sarasota, where they have won 2 of the three games played so far in Sarasota. They will host the Blue Jays when they return home on Wednesday for a four game set.
Dunedin is currently hosting Vero Beach, and has lost 2 of 3 to the Rays affliate. The Rays will host the Lakeland Flying Tigers when they return home. After a poor start, the Flying Tigers have won their last five and are part of the pack in the West, tied with Dunedin and Sarasota for 2nd place, 2 games back from the division leading Fort Myers Miracle and Tampa Yankees.
Lakeland has befitted from having the hapless St. Lucy Mets in, having won their last three by wide margins. Fort Myers should benefit from their East Divison swing as they take on Port Saint Lucie starting on Thursday. They have not faired so well against the Daytona Cubs, who had lost six coming in Sunday's game, including Saturday night to the Miracle. Sunday however, they broke the Miracle's home win streak and went on to win 9-1 on Monday. Daytona will host the Reds on Wednesday for a four game series.
Transactions:
Tampa has added
Anthony Claggett
to their roster from Trenton, and
Stephen Artz
from Staten Island. Palm Beach added
Brandon Garner
, received from extended spring training. Aside from losing Bastardo to a high league, Clearwater also lost
Carlos
Monasterios to injury as he went on the disabled list on Thursday, May 1.
Current Standings:

FSL East
  Club           W  L  PCT  GB   Home  Away  L 10  Streak
 Palm Beach     20 11 .645   -  13- 4  7- 7   5-5    W1
 Brevard County 17 14 .548 3.0   9- 5  8- 9   5-5    L1
 Daytona        16 15 .516 4.0   6- 8 10- 7   4-6    W2
 Jupiter        16 15 .516 4.0  11- 3  5-12   4-6    L3
 Vero Beach     15 16 .484 5.0  11- 6  4-10   5-5    L1
 St. Lucie       7 24 .226 13.0  4-13  3-11   5-5    L3

FSL West
  Club           W  L  PCT  GB   Home  Away  L 10  Streak
 Fort Myers     18 13 .581   -  12- 5  6- 8   5-5    L2
 Tampa          18 13 .581   -  11- 6  7- 7   7-3    W5
 Dunedin        16 15 .516 2.0   7- 6  9- 9   4-6    W1
 Lakeland       16 15 .516 2.0   8- 5  8-10   7-3    W5
 Sarasota       16 15 .516 2.0   8- 6  8- 9   5-5    L1
 Clearwater     11 20 .355 7.0   9-10  2-10   4-6    W1

League Leaders - Batting:

Name          Team POS  G  AB  R  H 2B 3B HR RBI TB BB SO SB CS  OBP  SLG  AVG  OPS
Chris Valaika  SAR  SS 31 130 19 49  9  0  7  31 79  7 25  1  0 .403 .608 .377 1.011
John Matulia   VER  OF 19  78 14 28  3  2  0   5 35  6  9  4  2 .412 .449 .359  .860
James Adduci   DAY  OF 31 117 20 41  7  2  0  14 52 21 23  2  2 .453 .444 .350  .898
Garrett Groce  VER  OF 22  83 17 29  7  1  1  12 41  4 15  3  3 .375 .494 .349  .869
Justin Turner  SAR  2B 26 107 18 37  7  1  0   8 46  9 12  2  1 .407 .430 .346  .837
Logan Morrison JUP  1B 30 111 12 38 11  0  3  18 58  8 17  1  0 .382 .523 .342  .905
Rene Tosoni    FTM  OF 28  95 18 32  6  1  0   9 40 13 25  3  4 .439 .421 .337  .860
Daryl Jones    PBC  OF 22  79  8 26  3  2  1   7 36  9 24  4  1 .411 .456 .329  .867
Brian Dopirak  DUN  1B 28 107 16 35  9  0  3  15 53 16 30  0  0 .415 .495 .327  .910
Cesar Suarez   VER  3B 31 127 11 41  4  0  2  19 51  4 10  6  0 .346 .402 .323  .747

League Leaders - Pitching:

Name             Team W L  ERA G GS CG SHO SV   IP  H  R ER HR HB BB SO WHIP HLD  GF
Eric Hacker       TAM 2 1 0.86 7  7  0   0  0 42.0 22  6  4  0  1  5 28 0.64   0   0
Antonio Bastardo  CLE 2 0 1.17 5  5  0   0  0 30.2 20  4  4  2  1 10 47 0.98   0   0
Jeremy Hellickson VER 3 0 1.29 6  6  0   0  0 35.0 28  6  5  1  3  2 46 0.86   0   0
Jordan Smith      SAR 5 1 1.52 7  7  0   0  0 47.1 41 11  8  1  2  5 31 0.97   0   0
Luis Marte        LAK 3 1 1.54 6  6  0   0  0 35.0 22  8  6  0  1 10 35 0.91   0   0
Jeff Allison      JUP 0 4 1.60 7  7  0   0  0 33.2 23 13  6  1  3 15 24 1.13   0   0
Jesse, Todd       PBC 3 0 1.65 7  4  0   0  1 27.1 18  7  5  0  1  7 35 0.91   1   1
Rick Porcello     LAK 2 4 1.98 7  7  0   0  0 36.1 25 13  8  1  4 12 22 1.02   0   0
Travis Wood       SAR 3 2 2.05 6  6  0   0  0 30.2 24  8  7  0  1 14 31 1.24   0   0
Kyle Winters      JUP 3 0 2.14 6  6  0   0  0 33.2 26  8  8  0  1 10 17 1.07   0   0